If you don't want to link your LMS for grade syncing, learn how you can create a Direct Delivery section
Instructor: Direct Deliver Your Course Section
Instructor: Direct Deliver Your Course Section
Enroll as an Independent Instructor
Create a Direct Delivery Section
Edit Details of a Direct Delivery Section
Invite Students to Enroll
Student Enrollment Process
Manage Enrolled Students and Check Progress
Check Enrolled Learners' Scores
Offer an Open Section (No Sign Up Required)
Instructor: Direct Deliver Your Course Section
Educators may wish to offer a course section directly through the Argos platform, rather than from a Learning Management System or other type of Portal. This guide shows how to set up an account as an independent educator, then set up a section for Direct Delivery to learners using the Argos platform.
Important Note: If you wish to connect to Argos through your LMS, do not use the account and section creation method described here. Instead, please contact our support team or your LMS Admin to inquire about LMS integration with Argos.
Enroll as an Independent Instructor
In order to setup an Instructor account, educators must first setup an Independent Learner account then contact support and request that an Argos Administrator give that account the ability to Create Direct Delivery Sections.

First, Create a new Independent Learner Account by going to Learner and Educator sign in page and select Create an Account.
URL: https://app.argos.education/session/new
Click the Create an Account link.

Provide the information requested, then click Register.

Check your email and click the link to confirm your account. You will be redirected to Argos and may now log in with your credentials.

After signing in, you will be taken to the My Courses Page as a Student.

Next, after creating your Independent Learner account, you must request access to create Direct Delivery sections as an educator.

Make a request by contacting Support here.
When making a request, please provide the email you used to establish your account and a brief statement explaining how you will use the platform for instructional purposes.
Please allow 24-48 hours for instructor access to be granted.
Create a Direct Delivery Section
After your account has been given Educator privileges, return to Argos and sign in. You will now see a New Section button.
Click the New Section button.

You will be taken to the course selection page. Select the content you wish to use to teach.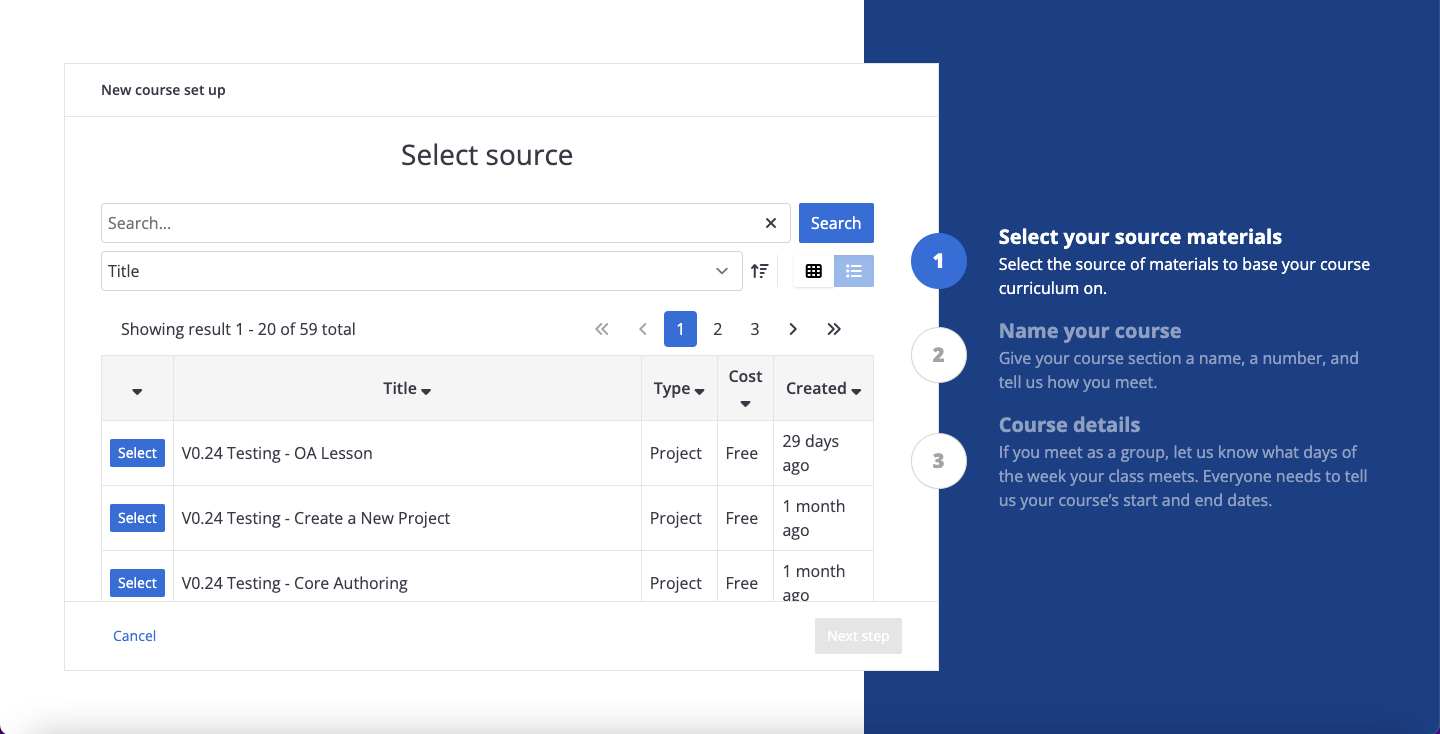 After selecting a course, you will be taken to the Create Section page.
Note: You can add more content, delete content, or remix content after completing set up.
Fill out the requested data, then click Create.
Fields (Required fields marked with *):
Title*: This is the course section title your learners will see.
Start/End Date: Timeframe when students should have access. You may leave either one or both fields empty and time-based access will not be limited.
Time Zone*: Often, educators will set this to be their own time zone if students' time zones vary.
Brand: If you wish to add the official branding of the publisher to your course section, select it here.
Registration Open: This setting is Yes by default. This allows learners to access the course. Regardless of Start/End dates, this setting must be Yes or students will not be allowed access. You may wish to leave this set to No if the course is not ready for learners.
Requires Enrollment: This setting is Yes by default. This requires learners to have an account or register for an account on Argos. The benefits of setting this to Yes include the instructor being able to see which learners access the course and check their scores. The benefits for students include the system tracking their progress, which means they will start where they left off each time they access the course, as well as seeing their scores.
After you Create the section, you will be taken to the Manage Section page, which shows the Table of Contents and a Manage Section button.
On the Manage Section page, you will be able to see and edit the course details and complete all other actions.
Note: To return to the My Courses page at any time, click the Argos logo in the upper left of the page.
Edit Details of a Direct Delivery Section
To edit any section details, click on the Course you wish to Edit, then click Manage Section.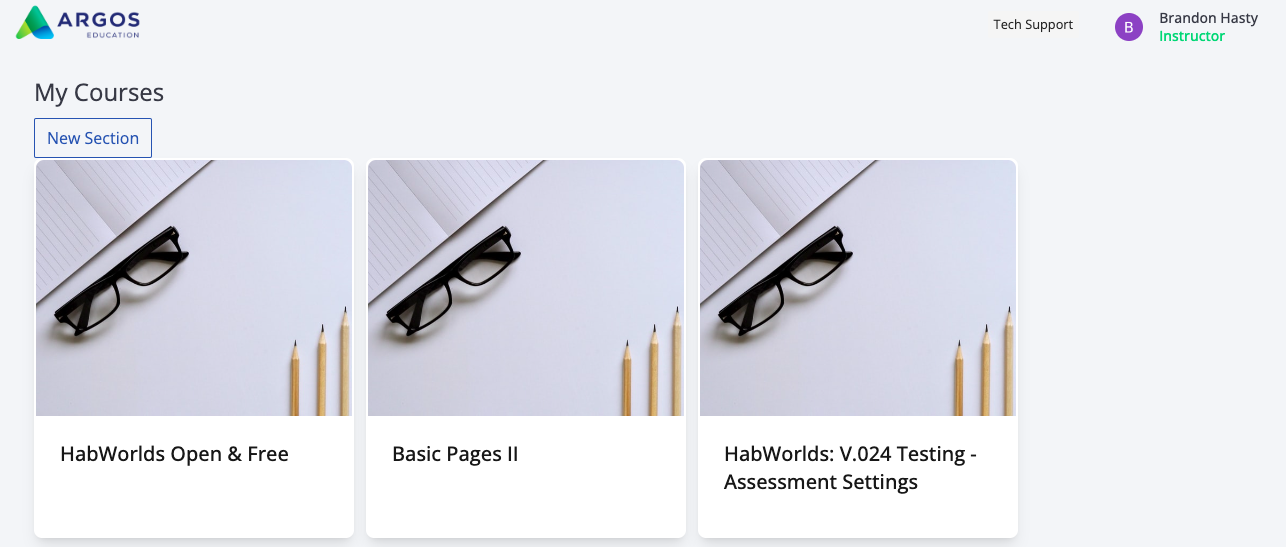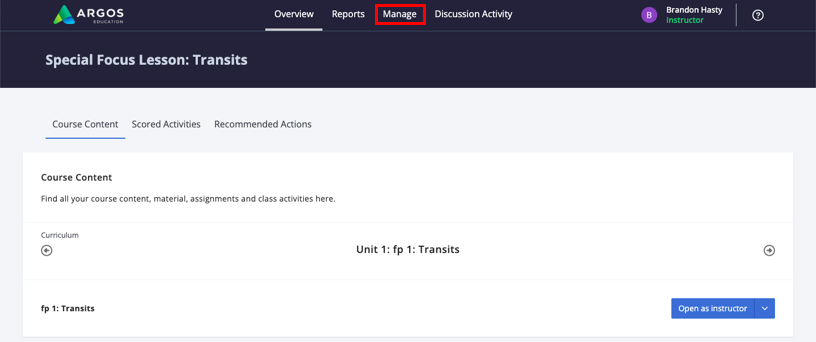 Go to Manage -> Edit Section Details.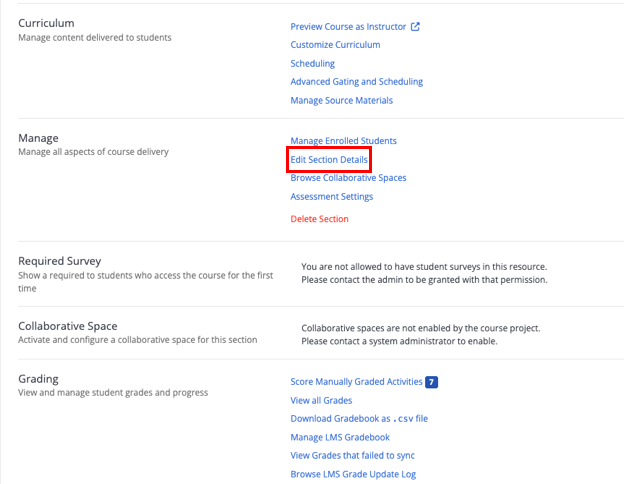 On the edit section details page, you can change any of the settings you selected when you set up the section. You may also add a Description.
Important Note: Be sure to select Save on EACH section where you make edits, or they will not stick.
Reminder: To return to the My Courses page at any time, click the Argos logo in the upper left of the page.